Webinar on current state and future outlook of Bangladesh's economy: private sector perspective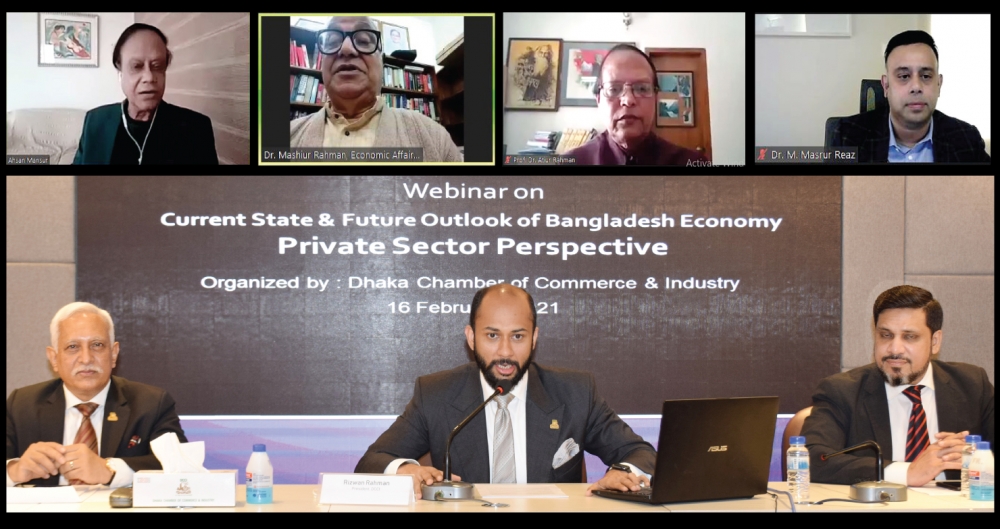 According to an assessment of Dhaka Chamber of Commerce & Industry (DCCI) of the macroeconomic perspective over the last 6 months, the economy is progressing in the right direction despite manifold COVID-led challenges. But, there are some rooms for further private sector centric economic development. Both public and private sectors can go hand in hand in the days to come towards the road to recovery to achieve the game-changing economic transformation of Bangladesh by 2041, said the Chamber's President Rizwan Rahman in a webinar on "current state and future outlook of Bangladesh's economy: private sector perspective - July-December FY2020-21" organized by DCCI on February 16, 2021.
Dr. Mashiur Rahman, Adviser to the Prime Minister on Economic Affairs, Government of Bangladesh joined the webinar as the chief guest. Dr. Atiur Rahman, former Governor of Bangladesh Bank, Dr. Ahsan H. Mansur, Executive Director, Policy Research Institute (PRI) and Dr. M Masrur Reaz, Chairman, Policy Exchange were also participated as special discussants.
DCCI President Rizwan Rahman in his power point presentation highlighted that the Covid impacted manifold on the economy of Bangladesh. He said, GDP value reduced to USD330 billion against the target of USD 343.55 billion with 8.20% growth in FY2019-20. National poverty rate rose by 9% to 29.5%. Rizwan Rahman recommended for automation of taxation system. Considering the impact of COVID- 19, budget needs to be reviewed quarterly and based on this priority and allocation need to be re-considered, he added. Private investment to GDP ratio declined to 12.72% while local and foreign investment declined by 72.16% in the July-September period of FY'21. To facilitate local private sector investment, he suggested to reduce corporate tax ratio, increase investment for infrastructure development, framing sector specific investment road-map and cluster development of backward and forward industries in the SEZs.
He also said according to ILO and ADB about 1.7 million youth lost their jobs due to Covid pandemic. DCCI President thus emphasized on skill development and highly recommended for industry-academia collaboration, increasing investment in education and research and development and enhancing technical and vocational education net. In the context of industry perspective, he suggested to prepare a long-term plan for product and market diversification. He also urged to allow private sector with easier regulatory process in establishing ETP in tannery industry. In the pharmaceutical sector, Bangladesh has to import 97% of its raw materials from abroad. But to be more competitive and have the easy access to the international market, he emphasized for speedy completion of the API Park which will also reduce 70% cost of import of raw materials. The annual turnover of our light engineering sector is of about USD 1.6 billion but we need to have a level-playing field for the local light Engineering sector as there is 15% VAT on Local production and zero VAT on Import. Regarding CMSMEs he said that the sector faces challenges in developing their capital, market linkages, product standardizations. Moreover, Banks disbursed only 54.13% of CMSMEs stimulus package till December, 2020. He suggested to give access to finance to the CMSMEs through SME Bond as an alternative financing. He also urged for formation of a comprehensive policy framework with revisiting the definition of CMSME. CMSMEs should get easy access of loan and moratorium support can be extended until pandemic situation is fully contained. Besides, Long-term financing for infrastructure development can be raised from capital market to asset securitization. Government needs to create a flexible regulation to bring the informal businesses into the mainstream for their record and traceability so that access to fiscal benefits can be ensured.
Dr. Mashiur Rahman, Adviser to the Prime Minister on Economic Affairs, government of Bangladesh said we need to be concerned more on how to mobilize the savings which we have. Government is focusing on rural economy and the agriculture sector. Government has successfully managed Covid-led crisis. Policies are on the right track and the growth momentum is sustained, he added. Demand is little bit subdued however the private sector needs to raise their productivity now. Bangladesh experienced reasonably good in export despite covid as well as remittance has also increased. But we need to be more careful about the NRBs returning home from the covid-hit labour market. He also suggested all to be optimistic as Government has come up with various policy support for the private sector and he urged the private sector to utilize this policy regime.
Dr. Atiur Rahman, former Governor of Bangladesh Bank said that we have to have sufficient liquidity in the banks. And the liquidity should go to the productive sector, he mentioned. Meanwhile, Government has eased some policy measures to ensure liquidity available which is a good sign, he said. Moreover, policies need to be sustainable without frequent changes, he added. CMSMEs and agriculture sector should get more priority as these are the lifeline of our economy. He also urged for long-term inclusive development despite our tax-GDP ratio is quite low. Besides, revenue generation is crucial for us and for that NBR has to focus on increasing Tax net. Other than RMG, ICT could be a big earner for the country and we have every potential in this sector. By the end of this year ICT alone has a target to achieve USD 5 billion export earning, he mentioned. But in the financial sector, strong regulatory framework needs to be applied, he mentioned. To get investors' confidence, investment in Infrastructure development should be increased along with speedy implementation. He also highlighted on generating renewable energy. He also emphasized to ensure low cost loan facility for the start-ups and women entrepreneurs.
Dr. Ahsan H. Mansur, Executive Director, Policy Research Institute (PRI) said we should not only focus on restoration rather we have to be prepared for the future challenges. He also underscored the importance of reducing poverty rate. Government needs to give support for the increase of production and employment generation. But to create investors' confidence we need to work more. Need more inputs in the next budget as well. Otherwise, Due to lack of investors' confidence, even in the Covid time most FDI went to China and Vietnam. He said our Incentive structure should be WTO compliant. Moreover, we need to reduce inflation rate competing with the international inflation rate. He said Krishi Bank, Shilpo Bank and few of the institutions like these are underutilized. These institutions can be enough for the development of CMSMEs, he said. Banks should be more flexible in SME lending. Besides, Loan Guaranty Scheme of Bangladesh Bank is not implemented yet. But, resource mobilization, big data management, less physical control and efficient management system are essential to improve tax-GDP ratio.
Dr. Masrur Reaz, Chairman, Policy Exchange said to identify post-covid challenges, public private dialogue may play a key role. He said during the covid time supportive measures to the agriculture supply chain worked well. Export is slightly subdued as the export market is going through an uncertainty. But vaccination across the world starts and hopefully within six months situation will improve. UNCTAD projected that global FDI might fall 30-40 percent due to covid but in reality it is about 42 percent in the last 6 months. Industrial growth is a bit slow, business confidence slightly lowered. But Business dynamism and business confidence, and domestic demand need to increase. He suggested that employment protection needs to be addressed in the next level of stimulus. We need to bring in trade and investment policy nexus. Lastly he recommended for a predictable revenue generating taxation structure.
Abul Kasem Khan, Chairman, BUILD said economy is a recovery stage but there are some challenges. In the Taxation policy we need to be competitive with the other countries. Our Tax-GDP ratio is one of the lowest in the region. NBR should go after people who are not giving taxes to widen net.
DCCI Senior Vice President NKA Mobin, FCS, FCA gave vote of thanks while Vice President Monowar Hossain and members of the board of directors took part.
Published on: 2021-02-16