Webinar on Bridging the infrastructure financing gap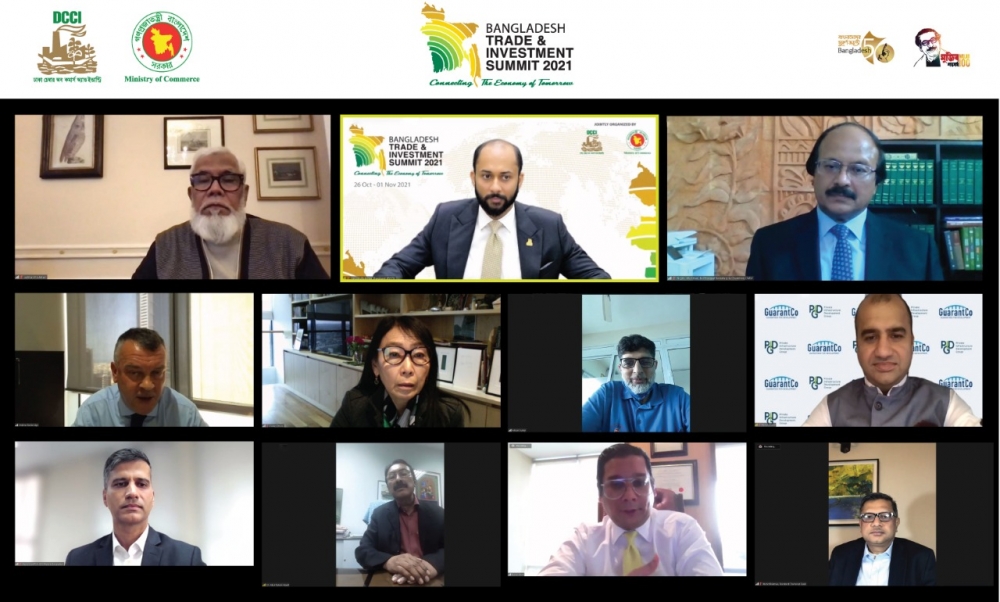 Speakers urged for a long term vibrant, innovative and structured infrastructure finance and development of bond market in the Webinar on "Bridging the infrastructure gap through credit solutions in Bangladesh" jointly organized by Dhaka Chamber of Commerce & Industry (DCCI) and Ministry of Commerce under the Bangladesh Trade & Investment Summit 2021 held on 31st October 2021.
Chief Guest of the session Salman Fazlur Rahman, Private Industry and Investment Adviser to the Prime Minister said that government's main job is to play a role of facilitator for the private sector to act properly. The present government has opened up almost all the sectors like power, airlines, televisions, mobile, banking, insurance, universities to be operated by the private sector. The per capita income of Bangladesh increased to USD 2227. For long term sustainable infrastructure financing, we need to think of more strategies to go the next level, he added. However, infrastructure financing has been improved in Bangladesh. All kinds of financing have been improved in Bangladesh, he added. But what we need is to create a vibrant structured bond market in our country, he said. Right at this moment there is a huge liquidity in the banking sector and if we could have been able to divert this liquidity into bond that would have been helpful.
Special Guest Md. Nojibur Rahman, Chairman, Capital Market Stabilisation Fund and former Principal Secretary to the Prime Minister said that the boom of infrastructure development in Bangladesh is going. We need capital and long term finance. Domestic finance is not enough for that. Guarantco is doing well in this regard. Bangladesh Bank and regulatory bodies are very supportive now and this is a positive sign for the private sector. Bangladesh's private sector is very enthusiastic vibrant now and the political will of the government for private sector is very positive to move the engine of growth. Capital market has a big role to play. Taka bond has already been issued in the London Stock Exchange and SUKUK bond has come into play. These are all positive signs. We need mixed approach.
DCCI President Rizwan Rahman said Infrastructure is critical enabler of compounding industrialization and economic development. Substantial investment in infrastructure is needed to accelerate trade and economic growth. To improve infrastructural competitiveness, investment is being made in wide-ranging infrastructure projects though they are relatively inadequate. Our infrastructure development has been heavily reliant on public sector financing which hovers around 4% to GDP whereas most of our neighboring economies maintain it within 5% to 10%. Lack of long-term and alternative financing solutions holds back the private sector role in the infrastructure development.
Andrew Bainbridge, Chair, PIDG said said that mobilizing the private sector is very critical enabler of growth. We work across the project life cycle through deploying grants, equity, long term debt and guaranty even in local currency. We are here to support nations and people to achieve their ambitions. Investment of their USD 4.4 billion over the last 20 years has actually mobilized USD35 billion.
Yukiko Omura, Chair, GuarantCo said that GuarantCo is a solution provider under PIDG. We are working with innovative and creative solutions in the form of structured guaranty. She said GuarantCo is quite unique and they are in Bangladesh to assist to develop local capital market and provide credit solutions to finance infrastructure projects that help boost economic growth and improve the quality of people's lives and alleviate poverty in line with the SDG goals.
Nishant Kumar, Managing Director, GuarantCo Asia said they had already finance a project Technaf Solartech in Bangladesh worth of USD13.5 million dual currency financing solution fund. Its a 20 mega watt solar power project. They have also provided a 100% bond gurantee USD25 million (BDT2.1 billio) gurantee for a 7-year onshore bond to Pran Agro Ltd. These projects will boost private sector and will create job opportunities.
Dr. Abul Kalam Azad, Executive Director, Bangladesh Bank said we need more infra funding as it is the backbone of the country's development. We have to build our own capacity. We can try long term bonds in the capital market. Depending on only banking sector will not meet long term financing, he said. We have to be positive for doing any necessary positive reforms.
Muhit Rahman, Managing Director, Standard Chartered Bangladesh said large infrastructure projects need financing of 12-15 years. Our debt to GDP ratio is around 39 percent. There is ample opportunities for Bangladesh to avail foreign currency solutions. We need to focus on attracting commercial loans and bond investments. Domestic source is not enough, it will have to have a mix of local and foreign currency solution. Moreover he urged upon financial risk management practices.
Ahsan Khan Chowdhury, Chairman & CEO, PRAN-RFL Group said Bangladesh is is growing and it needs alternative financing and funding for infrastructure development and private sector. Bangladesh also needs to improve its sovereign credit rating which at present is at BB- and it will be a challenge for private sector. We need to raise bonds in the international market.
Nuher Latif Khan, Managing Director, Technaf Solartech said GuarantCo is working for capacity building and skills development beyond their guarantee. It has also come along with emphasis on community development and economy as well which is good for the country.
Published on: 2021-10-31