Webinar on Automobile Industry Development: Present Situation & Future Prospects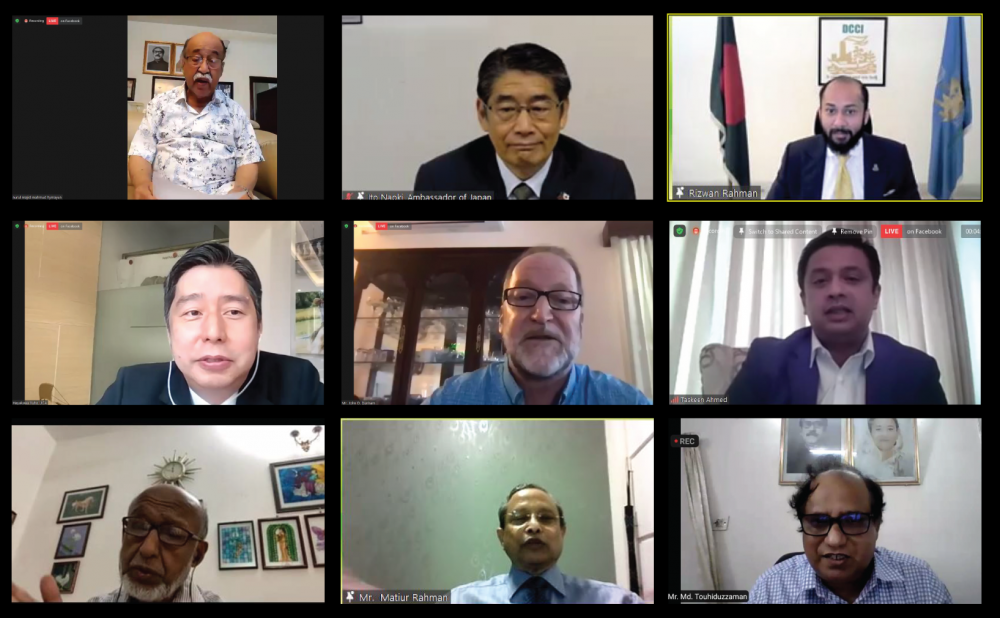 At least 5-10 years sustaining tariff policy should be taken to support the local vehicle assembling and manufacturing industry, said Rizwan Rahman, President of Dhaka Chamber of Commerce & Industry (DCCI) in a webinar titled "Automobile Industry Development: Present Situation & Future Prospects" held today on April 18, 2021. Industries Minister Nurul Majid Mahmud Humayun, MP joined the webinar as the chief guest. Ambassador of Japan to Bangladesh Ito Naoki also participated as the special guest.
Rizwan Rahman, President, DCCI said Bangladesh's automobile sector is mainly dominated by imported reconditioned and new vehicles mostly from Japan, China, India, Europe and the USA. Considering the growing market demand, local and foreign investors are now showing interests to invest in the automobile industry. Prior to the COVID-19, the automobile market was growing by 15% to 20% with 12% growth in auto parts yearly. Despite having potentials, the absence of long-term policy and consistent tax structure, lack of domestic source of raw materials and relevant skilled human resources, as well as- inadequate backward linkage limit the automobile manufacturing industry development. He also urged for a long-term policy and a minimum 5-10 years sustaining tariff policy to support the assembling and manufacturing of vehicles. He also echoed for a separate Automobile Zone and allowing joint ventures for parts manufacturing to create local experts.
Industries Minister Nurul Majid Mahmud Humayun, MP said that the purchasing power is increasing day by day. He urged the private sector and foreign investors to set up spare parts and tools manufacturing unit in the EZs. Government is relentlessly working for the industrialization of the country. He also invited FDI in this sector. Research and innovation in this sector are more important, he added. The Minister also said that if needed a comprehensive policy will be pursued especially for this industry.
Ambassador of Japan to Bangladesh Ito Naoki said Bangladesh has a strong possibility to establish its own local automobile industry. When we talk about export diversification, the automobile, light engineering and agriculture-based sector can play a vital role, he said. Japanese Mitsubishi Motors showed interest to invest in Bangladesh in the CKD assembling plant, he informed. Mitsubishi and Ministry of Industries came to an agreement last month to sign a MOU to conduct joint feasibility study on the viability of investment. It will create technology transfer and employment opportunities for Bangladesh, he added. He also urged for policy support, tax benefits and incentives to grow the industry.
Taskeen Ahmed, Deputy Managing Director, IFAD Group presented the keynote paper. He highlighted that Bangladesh has done a tremendous progress in the infrastructure sector in the recent past. He said after completion of Padma Bridge it will create high local demand for commercial vehicles. Moreover, the BBIN Motor Vehicle Agreement would boost commercial vehicle growth on regional trade dynamics shift, he added. After the draft Automobile Policy 2018, the market size of motorcycle industry went to a new height. Total investment in this sector is Tk. 8000 crore contributing 0.5% to the GDP now. Whereas, reconditioned car constitutes 50% of the total car market, on the other hand, 45% are used and only 5% are brand new. As per the draft, automobile policy government plans to impose a ban on used car imports give incentives to facilitate local industry. He also said that the commercial vehicle market is of around $1 billion and the growth will be sustained in future. In the light engineering sector, the market size of auto parts industry is of about Tk. 1400 crore with an annual growth rate of 12%, he told.
John D. Dunham, Economic and Indo-Pacific Affairs Unit Chief of the US Embassy said Bangladesh was able to show a tremendous growth especially during the last decade. Bangladesh is graduating into developing country; therefore, the government needs to tailor ideal policies like tax and investment policies. Bangladesh's prosperity is important to the USA, later he said.
Md. Touhiduzzaman, Managing Director, Pragati Industries Ltd. said we want vehicles to be manufactured locally. The more assembler will come the more the sector will boost. Also focus needs to be given to the spare parts manufacturing locally. Every assembler should have a research and development cell for improvement.
Matiur Rahman, Chairman & Managing Director, Uttara Group of Companies said we are far behind in this sector. A long-term policy and incentives will foster this sector. This is a promising sector and has the opportunity to attract private sector investment.
Engr Syed Imtiaz Ahmed, President, Signal Stream Inc, Canada, added that if Bangladesh can focus on manufacturing electronic control units (ECU) in Bangladesh that are massively used by car and other vehicles manufacturers then Bangladesh can be able to grab a portion of the world automobile industry very soon.
Abdul Haque, President, BARVIDA said that the taxation policy should be industry friendly as well as the industry needs more consistent policy support. He also said that the market of 3 wheelers is being enlarged in Bangladesh. He also urged for policy consistency and creating affordability of middle-class people.
Hayakawa Yuho, Chief Representative of JICA Bangladesh said appropriate industrial policy is needed to protect and nurture the sector. Government may think of providing investment incentives to the private sector investors from home and abroad. The automobile policy should be carefully formulated and implemented since the situation in this sector changes day by day, later he said.
DCCI Senior Vice President NKA Mobin, FCS, FCA gave the vote of thanks.
Published on: 2021-04-18