Seminar on Smart Agriculture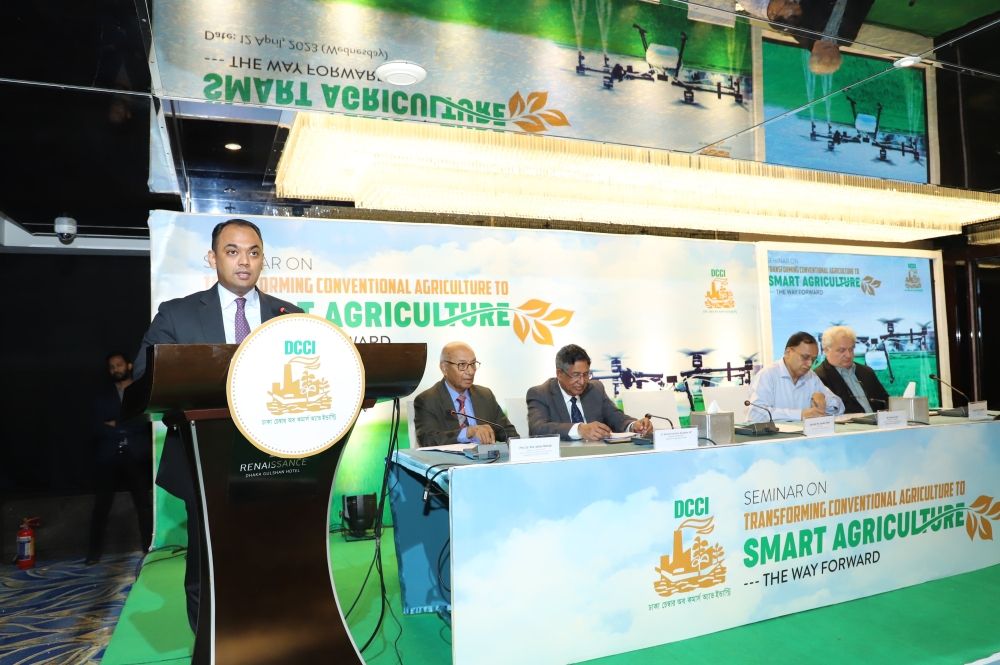 To achieve the goal of Smart Agriculture, it is crucial to invest in modern technology and education to increase productivity, sustainability and profitability for our farmers. Besides, it is also imperative to train our farmers to adopt technology and advanced technology-based agricultural management. These were said by Barrister Md. Sameer Sattar, President of Dhaka Chamber of Commerce & Industry (DCCI) at a seminar titled "Transforming Conventional Agriculture to Smart Agriculture" held on 12 April, 2023 at a city hotel.
Agriculture Minister Dr. Muhammad Abdur Razzaque, MP was present at the seminar as the Chief Guest. Secretary of ICT Division Md. Shamsul Arefin and WFP's Country Representative and FAO's acting Country Representative in Bangladesh Domenico Scalpelli also joined as the Special Guest and Guest of Honour respectively.
DCCI President Barrister Md. Sameer Sattar also said that our agro and food-processing industry crossed USD 1 billion mark, exporting around 700 items to over 145 countries. He informed that currently, the agro and food-processing industry accounts for about 0.22% of the GDP and it faces a number of challenges such as limited value-addition skills, lack of diversification, quality assurance, low awareness of sanitary and phytosanitary compliance issues. Moreover, to keep pace with the 4IR, we have to learn nano-technology, bio-informatics, machines, internet of things and new agriculture technologies.
Agriculture Minister Dr. Muhammad Abdur Razzaque, MP said that our young generation will lead this concept of smart agriculture. Agriculture's contribution to GDP is 12% and the sector creates almost 38% employment in the country. For food security we need more productivity. Smart agriculture is need of time and for this we have to go for mechanized cultivation system. Government is committed to give all sorts of policy support needed. He also urged for multipurpose cold storage system to mitigate wastages. Later he stressed on product variety, efficient use of water and climate resistance crops production.
Secretary of ICT Division Md. Shamsul Arefin said to meet the growing demand of food we need to go for smart agriculture and to adapt this concept we need to go for smart technology. Most of the countries in the world are now using smart technology, nano technology, bio technology and various blessings of 4IR. Therefore, to compete we can not lag behind than the others. He also called upon the private sector to lead smart agriculture to its next stage. In this regard, government will give all possible support to the private sector, he added.
WFP's Country Representative and FAO's acting Country Representative in Bangladesh Domenico Scalpelli said that commercial agriculture in Bangladesh is gradually increasing but he underscored the importance of value addition of agricultural products. He also said that smart agriculture aims to improve productivity and quality of products. He also urged young generation to be engaged in agriculture sector more and more.
Former Vice Chancellor of Bangladesh Agricultural University Dr. M. A. Sattar Mandal presented the keynote paper at the seminar. He highlighted that National Agriculture Policy 2018 underscores the need for Digital Agriculture as a means to achieve a sustainable, safe and profitable agriculture. He informed that the size of agri machinery market in Bangladesh is about of USD 2.8 billion. Besides Bank loans, skill training & capacity building, rational VAT & import duty structures to encourage private sector, smart mechanization and automation is very much essential for smart agriculture, he opined. He also stressed on increasing cold storage facilities for agri products around the country.
Abdul Ghafur Bashir, Managing Director, AquaLink, Fahad Ifaz, CEO, iFarmer, Dr. F H Ansarey, Managing Director & CEO, ACI Agri-businesses, Ahsan Khan Chowdhury, Chairman & CEO, Pran-RFL Group, Abu Saleh Md. Mahfuzul Alam and Consultant 4IR, Aspire to Innovate (a2i) also spoke on the occasion. Speakers proposed for forming an "Agriculture Entrepreneurship Fund". They also said that ensuring agriculture productivity with world class quality is the main moto of smart agriculture. They also emphasized on value added agriculture, proper guidance for farmers and capacity building of agro-based entrepreneurs as well as proper policy support.
DCCI Senior Vice President S. M. Golam Faruk Alamgir (Arman) gave the vote of thanks.
DCCI Vice President Md. Junaed Ibna Ali and members of the Board of Directors were present during the seminar.
Published on: 2023-04-12