Seminar on Economic Outlook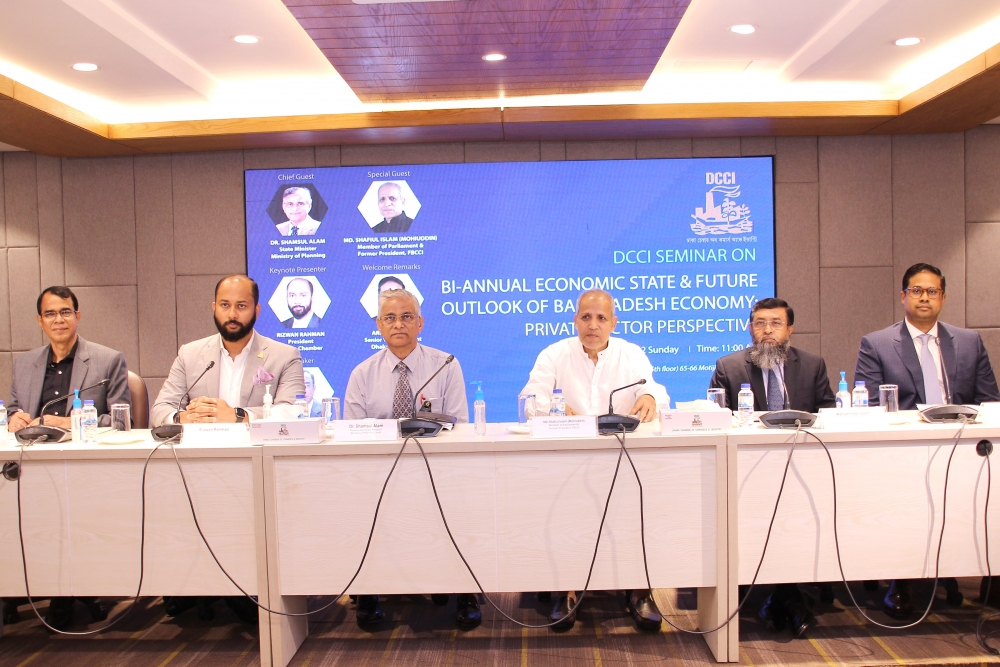 Not only the Bangladesh economy but the whole world is going through a tough time in terms of economic stress, inflation, fuel price hike and supply chain disruptions. Bangladesh is not an exception of this global economic chain, but we are not in a position to be panicked at all, said State Minister for Planning Dr. Shamsul Alam as the chief guest at a seminar on "Bi-annual Economic State and Future Outlook of Bangladesh Economy: Private Sector Perspective" organized by Dhaka Chamber of Commerce & Industry (DCCI) on August 14, 2022. He said that government should take loan from foreign sources to ease pressure on Dollar.
Dr. Shamsul Alam also said that the manufacturing sector has seen a 23% growth in the last fiscal. Facts and figures show that the economy of Bangladesh is in the right track and there is no scope of being panicked. Regarding remittance he said that last year Bangladesh sent about one million workers abroad and its positive impact on remittance inflow will be visible soon. Later he said that full automation of taxation system will reduce harassment as well as boost revenue.
DCCI President Rizwan Rahman presented the keynote paper in the seminar. He highlighted that energy, inflation, food security, logistics and financial sector are some of the major areas we should look into. Recently liquid fuel price is hiked nearly by 50% and natural gas price raised by 22.78% whereas Inflation was recorded 7.48% in July22. Moreover, disruption in global trade affected essential food supply and reserve crisis forced to increase external borrowing. However from January to June FY2022 our export was USD27.39 billion but the import was USD48.16 billion at the same period that shows positive growth. During the same period inflation was 7.56%, private sector credit growth was 13.66%, remittance was USD10.79 billion and reserve was USD41.8 billion. All these components showed positive growth except the reserve and inflation. From July to December FY2021 reserve was USD46.15 billion. (Sourced by Bangladesh Bank). The overall global economy has been impacted due to the global crisis and Covid 19 outbreak. Due to global crisis resulted by the Ukraine-Russia war, energy supply chain has been disrupted, exchange rate of Taka depreciated and trade deficit stood at USD40.15 billion in FY2022.
Given this scenario, to face the challenges of LDC graduation Rizwan Rahman suggested for expediting bilateral and multilateral Comprehensive Economic Partnership Agreements (CEPA) with selective countries and revision of import tariff structure. Regarding Fiscal Policy he said government borrowing through Savings certificates needs to be reduced and cheap sources of funds from abroad must be accessed. Monetary and Fiscal policies should have a nexus for coordinated economic development.
Additional cost in the supply chain needs to be lessened to control the food inflation. International market and price dynamics need to be monitored to avoid irrelevant price shock. Essential commodities supply through TCB needs to be expended outside Dhaka. Rizwan Rahman also suggested for ensuring a flexible interest rate regime to reduce inflationary pressure and stabilize forex reserves. He said inadequate infrastructure, high cost-of-doing business, rising inflation and lack of effective OSS are some of the factors slimming the private investment growth. To attract more FDI he said predictable and consistent business tax rate, energy security and FDI diversification are needed through investment diplomacy.
To boost export revenue he suggested expansion of service sector and ensure increased capability in port and logistics. Currency swap can be considered for low-cost import for improving foreign reserves. Our export is widely dependent on RMG sector, Dhaka Chamber President added. But for future sustainability long-term investment in R&D is needed for technical textiles, high value products with more specialization. Besides, more mechanization, industrial, labor and environmental compliance are required for GSP plus facility.
In the leather sector, we need to improve the negotiation skills and agility in post LDC graduation era. Moreover, knowledge and innovation lab and technology transfer to produce high-end products in line with the global market demand. He also said that CMSMEs need to be digitally transformed into e-commerce. He also underscored the importance of development of logistic infrastructure like port, railway, road and inland waterways. For the energy and power sector he recommended for stable, predictable energy fuel mix through multiple sourcing and pricing policy, a roadmap for renewable energy and ensuring fuel and transmission efficiency in State-owned power plants.
For CMSME sector he suggested alternative financing platforms like discounting platforms, expedited loan disbursement process by the banks and easy access to finance addressing complicated disbursement process, poor bank and client relationship and collateral issues.
Special Guest of the seminar Md. Shafiul Islam (Mohiuddin), MP and former President, FBCCI said in the Covid times, Bangladesh Bank played an effective role especially for the CMSME sector. He said, worldwide, countries are facing fuel crisis. For more onshore gas exploration, we need to strengthen BAPEX, he added. Despite global economic situation is in the stress, supply chain is disrupted but even in this condition, our reserve is enough to pay import bills of next five and half months. The existing crisis is temporary and government is managing all these things in an efficient manner, he said. Terming business community as the engine of growth, he said that the tax department should be proactive and help business community to grow hassle free. He sought robust conducive policy support from the government so that the vibrant private sector of Bangladesh can contribute more to the economy.
Executive President of BKMEA Mohammad Hatem said that in the manufacturing industries pressure of gas is remarkably low that may hamper our export competitiveness. Recent Diesel price hike will inevitably increase the inflation no doubt, but the government should take initiative of adjusting fuel price quarterly matching with the prices in the international market. Moreover, he expressed his dissatisfaction over the huge difference between buying and selling price of Dollar in the banks. He said the difference between buying and selling of dollar should be 1 taka. Later he said that our taxation system should be business friendly and fully automated. He also requested the NBR to withdraw tax on sub-contracting firms.
Chief Economist of Bangladesh Bank Dr. Habibur Rahman said that any policy issue has some conflicting sides. But the Bangladesh Bank is always looking into best balancing of policy guidelines to control the normal money circulation and market. We are also thinking options for currency swap with few countries like India and China, he said.
DCCI Senior Vice President Arman Haque gave the welcome remarks on the occasion.
Published on: 2022-08-14