Dialogue on "Energy Strategy: Towards a Predictable Future"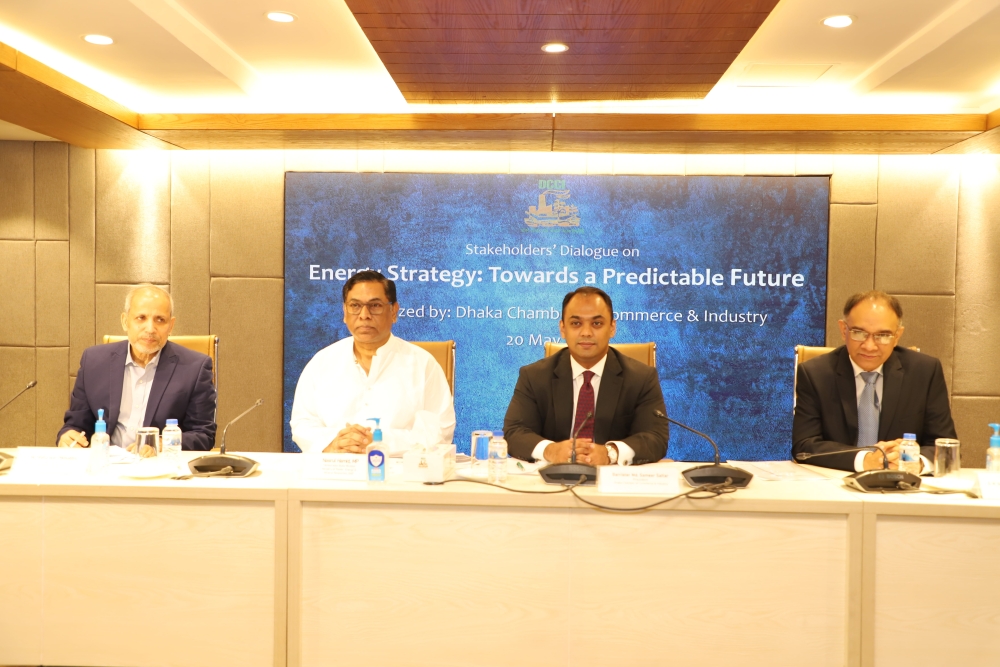 Taking into account the importance of smooth graduation led transition of Bangladesh amidst the volatile geo-economic climate, we need to prioritize energy security strategy as energy is imperative to sustain the growth momentum, said Barrister Md. Sameer Sattar, President of Dhaka Chamber of Commerce & Industry (DCCI) at the Stakeholders' Dialogue titled "Energy Strategy: Towards a Predictable Future" organized by DCCI on May 20, 2023 at DCCI Auditorium. Minister for Power, Energy and Mineral Resources Nasrul Hamid, MP was present as chief guest while Md. Shafiul Islam (Mohiuddin), MP, former President of FBCCI was present as special guest.
DCCI President Barrister Md. Sameer Sattar in his opening speech suggested for investment in primary energy sourcing to enhance gas supply for stable energy supply. He also said that fuel and production efficiency in State-owned power plants need to be ensured. He also urged for a predictable pricing policy so that the private sector can make necessary business planning ahead. Later he suggested for revision of Power Sector Master Plan (PSMP) based on the future demand and energy supply sourcing mapping.
Minister for Power, Energy and Mineral Resources Nasrul Hamid, MP said that government is planning to ensure uninterrupted gas for all industries as the country is going ahead to be a trillion dollar economy by the year 2040. He said that due to unplanned industrialization it becomes difficult for the government to provide gas to all industries. He requested the industry owners to shift their industries in the Economic Zones to avail quality uninterrupted gas supply. Regarding pricing of power and energy, he informed that gas price will be adjusted depending on international market price since government is planning to reduce its subsidy especially in this sector. A Pricing Policy is being prepared, he informed. He also agreed that we need to go for exploration but it will take time and huge investment is required. Government will be strict and show zero tolerance to the unlawful gas users. He later requested the industry owners to use energy efficiently.
Md. Shafiul Islam (Mohiuddin), MP, former President of FBCCI suggested the businessmen to be resilient. The private sector is one of the integral part of the stakeholder of this sector, that is why the policy has to be coordinated and consistent. We need employment and for employment generation we need industrialization and for industrialization we need uninterrupted power and energy supply. One is dependent on others. Regarding inflation he said that the whole world is suffering from inflation and we are not an exception. He later urged on good governance and efficient use of energy for sustainability. He later requested the government to disconnect all unlawful connections immediately.
In the panel discussion session, Faisal Karim Khan, Director, Summit Power requested for unified taxation system for importing power plant related machineries. Editor, Power and Energy Mollah Amzad Hossain suggested that the industrialists can use the waste heat coming out from the power plants. Ahsan Khan Chowdhury, Chairman and CEO, PRAN RFL Group said that there should be clarity of pricing. He also stressed on long term planning and predictable pricing policy. President, FICCI Naser Ezaz Bijoy said transparency, road map, optimization of supply side and optimization of consumption are more important to be addressed. Dr. Badrul Imam, Honorary Professor, Department of Geology, University of Dhaka said that we have enough gas under our soil. We need to explore gas fields as soon as possible. BGMEA President Faruque Hassan said that if government can stop or disconnect illegal connections, legally run industries will get that portion of gas for production. Moreover he requested to reduce tax and duty on import of solar equipment. For our competitiveness, export oriented industries should get support, he added. Vice President of FBCCI Md. Habib Ullah Dawn said due to reduce carbon emission and keeping climate change issues in mind uses of electric vehicles will be widened in future and for that reason there should have been a proper planning of establishing electric charging stations across the country.
Published on: 2023-05-20