DCCI webinar on law and order situation and keeping prices of essentials stable in Ramadan held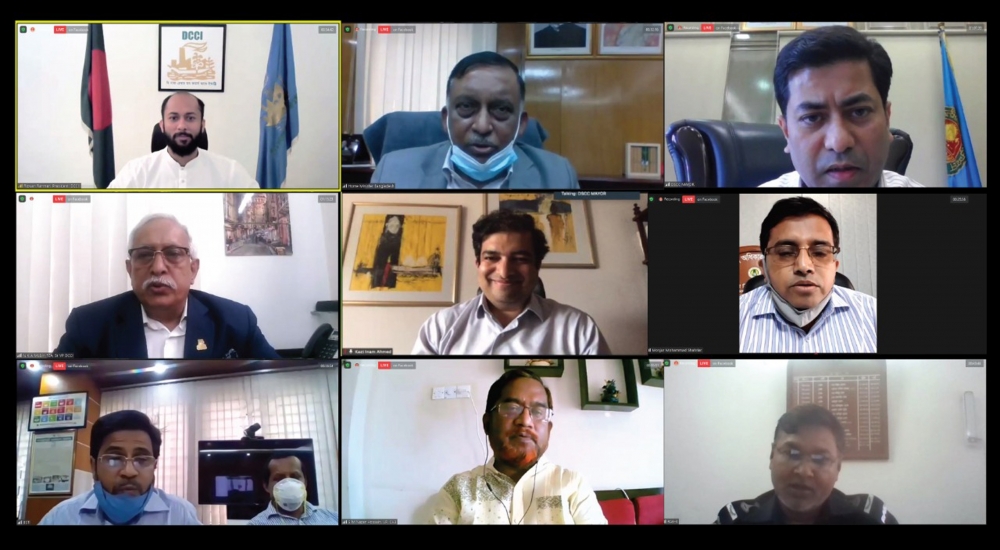 Dhaka Chamber of Commerce & Industry (DCCI) organized a webinar on "Law and order situation and keeping price of essentials stable in the upcoming Ramadan" today on 11 April, 2021. Minister for Home Affairs Asaduzzaman Khan, MP joined the webinar as chief guest. Mayor of Dhaka South City Corporation Barrister Sheikh Fazle Noor Taposh joined as special guest.
DCCI President Rizwan Rahman in his welcome remarks said when the economy was in the way of recovery, at that moment the second wave of Covid 19 comes back. The worldwide supply chain and production are hampered and are responsible for inflation. Price hike in the international market and volatility in supply chain have a impact on price hike in Bangladesh. Besides, the issue of international market, creating artificial crisis by hoarding, lack of market monitoring, extortion in the transportation sector, increased transportation cost are some of the reasons of price spiral especially in the month of Ramadan. According to a study poverty rate soars up to 42% due to pandemic which was 20.5% a year ago. In this scenario, if prices of essential commodities increased people will suffer a lot in the month of Ramadan. To keep prices under control he suggested to release essential goods from the port considering it as a priority. Law enforcement agencies should take stern action against the extortionists in the transportation sector. He also recommended for a strong market monitoring system and bringing the ultra poor section under social safety net. We have adequate laws, but we need to execute the rules and laws.
Minister for Home Affairs Asaduzzaman Khan, MP said extortion is under control now despite we could not control it hundred percent bur we are tough against it. In the month of Ramadan, here in Bangladesh we always experience price spiral but in many countries in the world they lower their price at this time. From 14 April We may go for a hard lockdown to save lives, he added. He urged all to maintain health advisories and instructions from the government. We want the help of businessmen to keep the prices stable not only in the month of Ramadan but also all the year round. Law enforcement agencies are now largely capable and expert so you are requested to take their help any time.
Mayor of Dhaka South City Corporation Barrister Sheikh Fazle Noor Taposh said said we have to be united. DSCC has already formed a Committee comprising of 9 Counselors for market monitoring. We regularly conduct mobile courts. DSCC is a business friendly service organization. We will work for the greater interest of city dwellers. He also stressed on awareness for Covid 19, we sometimes see negligence in terms of obeying health advisories. Coordinated efforts will help us to come out of this pandemic. Extortions are now very minimum and our fight against extortionists will continue.
In the open discussion session S M Nazer Hossain, Vice President Consumer Association of Bangladesh said that we have lack of market monitoring. There is also blame game between large and small businessmen. He urged for a coordinated market monitoring system. He also urged the businessmen to accept lower profit margin.
Golam Mowla, President, Edible Oil Importers Association said that the price of edible oil is high because of increased price in the international market. Sometimes retailers then the price went high. Ministry of Commerce can fix the retail price to control price hike. need to establish accountibility and memo system. we also need safety during the lock down situation.
Enayet Ullah, President, Moulovi Bazar Babosai Somity said that the supply of spices is quite fine and there is no probability of price hike of this item. Now is the time for selling, last year we incurred a great loss. He urged to allow the wholesale market to open during the lockdown time.
Monzur Shariar, Deputy Director Consumers Rights Department said there is no shortage of goods. We are monitoring the market. If government can fix the price we will ensure it. We are ready to stay on field in the month of Ramadan.
Taher Zamil, Director Admin, BSTI said that BSTI will look into the quality of products. one stop service center of BSTI is open. Our laboratory is also open and our surveillance team also active as well as mobile court. Mobile court will be continued nationwide, he said. 476 mobile courts were active last year. He urged the businessmen not to fake the products and do profit in a lower margin.
Major Rahat from RaB 3 said our patrol team is in action. He requested to ensure personal security. He also recommended to set different timing for different markets.
Additional Commissioner (OPS), DMP Mizanur Rahman said in the month of Ramadan activities of Policy increased manifold. We always give support to the mobile court operators. Moreover, we need to support two city corporations for conducting mobile courts. During Covid time we may have few deployment but we never stop monitoring. Our money escort service will be open in the Ramadan.
Kazi Inam Ahmed, President, Bangladesh Super Market Owners' Association said we have 300 super shops in the country. We have enough stock of goods, if we want to stable the price in that case price will not hike. We will maintain social distancing in our super shops.
Published on: 2021-04-11