DCCI Meet the Press 2023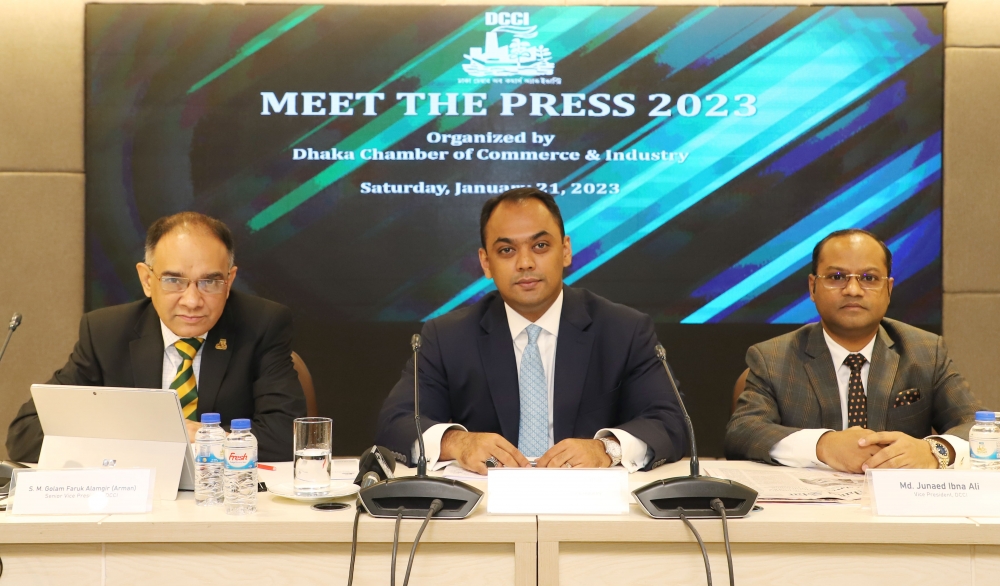 Dhaka Chamber of Commerce & Industry (DCCI) holds a Press Conference on the contemporary economic situation and to share DCCI's plan of action for the year 2023 on 21 January, 2023. DCCI President Barrister Md. Sameer Sattar presented the keynote paper on the contemporary economy. He informed that, at this year Dhaka Chamber will emphasis with its policy advocacy role on CMSME, skill development, export diversification, private investment & FDI, financial sector, TAX management, LDC graduation, economic diplomacy, infrastructure and smart Bangladesh. DCCI president placed various recommendations on these issues.
Answering to various questions from the journalists, Barrister Md. Sameer Sattar said that the price of energy is increasing due to global economic crisis and energy shortage. But we urge the government that it should not be a 'one way street' and when the prices of energy come down in the international market, then it should be adjusted in our country as well, without any delay.
Regarding employment and job cuts due to global recession, he said that we are also part of this global volatility. But, for the year 2023, both the employers and employees should be happy if they can keep the business afloat by retaining the existing manpower. For the new entrants, 2 million graduates are added to the job market every year but it is difficult to accommodate them all with suitable jobs. Many will get jobs but a big portion of the rest may be more inclined towards becoming entrepreneurs. Now a days, young entrepreneurs are very innovative in terms of technological know-how. To support the start ups and sustain the CMSME sector in this global volatile market, access to finance is very important, said Barrister Sattar. They should have an easy access to finance with minimum onerous conditions.
Recent gas price hike is only for industries not households or agriculture sector. Regarding this price hike, he said that businessmen may be willing to pay a higher price but, in return, they want uninterrupted gas supply so that they can continue industrial production without any hindrance. It is true that gas price hike and electricity price hike will have an adverse impact on the small businesses as this will increase their production costs. But this is common with any gas/power price hike.
Barrister Sattar also urged the Bangladesh Bank to consider LC margins especially during the upcoming Ramadan for essential commodities so that importers can import the same and keep supply stable. There is no `over-night' solution to increase foreign exchange reserve, he added. We have to incentivize more remittance inflow from abroad and enhance export earnings to expedite reserve, he said.
DCCI Senior Vice President S M Golam Faruk Alamgir (Arman) and Vice President Md. Junaed Ibna Ali and members of the Board of Directors were also present on the occasion.
Published on: 2023-01-21