DCCI BoD called on BIDA Executive Chairman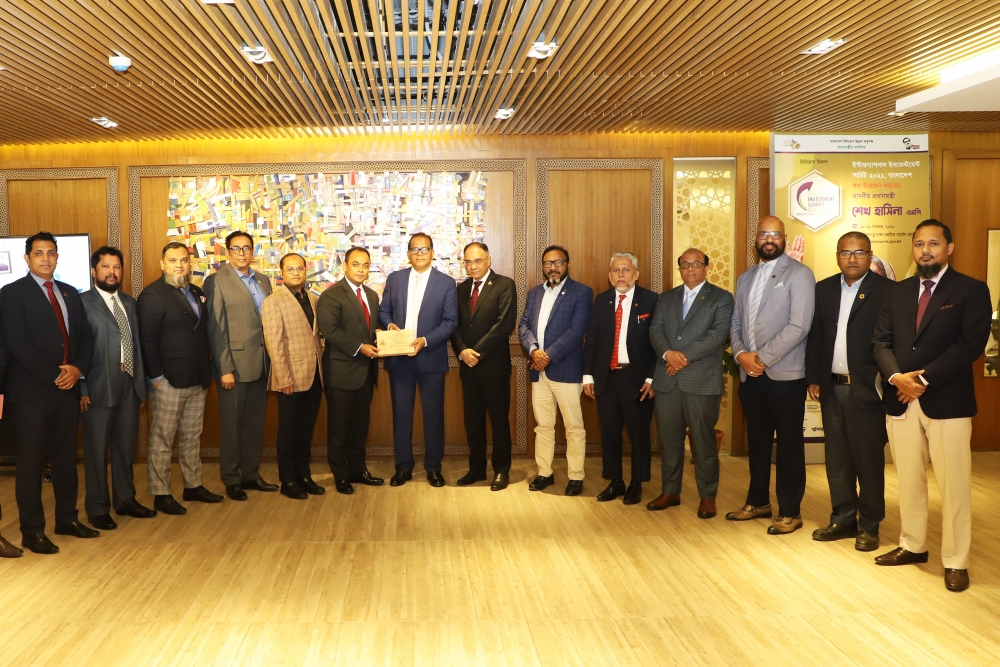 Board of Directors of Dhaka Chamber of Commerce & Industry (DCCI) led by its President Barrister Md. Sameer Sattar called on Executive Chairman of Bangladesh Investment Development Authority (BIDA) Lokman Hossain Miah on January 17, 2023.
During the discussion, Barrister Md. Sameer Sattar, President, DCCI urged that both private and public sector should work together for continuous improvement of pro-investment climate in Bangladesh to enhance both local and foreign investment. He also underscored the need of a time-bound national roadmap for attracting FDI in Bangladesh, with a view to elevating the FDI to GDP ratio to 5% which is currently 0.80%.
Mr. Sattar also said, to attract FDI, a study should be undertaken to see if the OSS is operating in afunctional and effective manner conducive to the investors. He also urged to bring all the oss portals under one national single window called National Single OSS. Moreover, Barrister Sattar emphasized on timely institutional and legal reforms especially setting up a separate commercial court to deal with contract enforcement cases, reform of Arbitration Act and to modernize the insolvency laws in line with other developed jurisdiction. If done so promptly, it will further ease the foreign investment climate in Bangladesh.
Since, post-LDC, Bangladesh will lose the preferential treatment in export markets, especially in the EU, he suggested, in this regard, to form a National Strategic Committee engaging all key stakeholders so that the necessary ratified conventions can be implemented in Bangladesh so that the committee can negotiate with the EU as to how these conventions can be implemented reasonably.
Executive Chairman, BIDA Lokman Hossain Miah said that we are committed to maintain a good economic relation with all. Regarding OSS, he said by the next three months OSS will be fully functional. In terms of FDI attraction, the BIDA Executive Chairman said that business community is the best ambassador of the country to attract foreign investments. Due to Russia Ukraine war the global economic is facing some challenges, but however, Bangladesh's economy is still in good shape. Moreover, having a strong demographic dividend, enthusiastic business community, and business friendly environment Bangladesh will be able to progress ahead in the days to come. He later emphasized on good governance and transparency to ensure better accountability in the government sector.
DCCI Senior Vice President SM Golam Faruk Alamgir (Arman), Vice President Md. Junaed Ibna Ali and members of the Board of Directors of DCCI were also present in the meeting.
Published on: 2023-01-17