DCCI Board of Directors called on Mr. Salman F Rahman, MP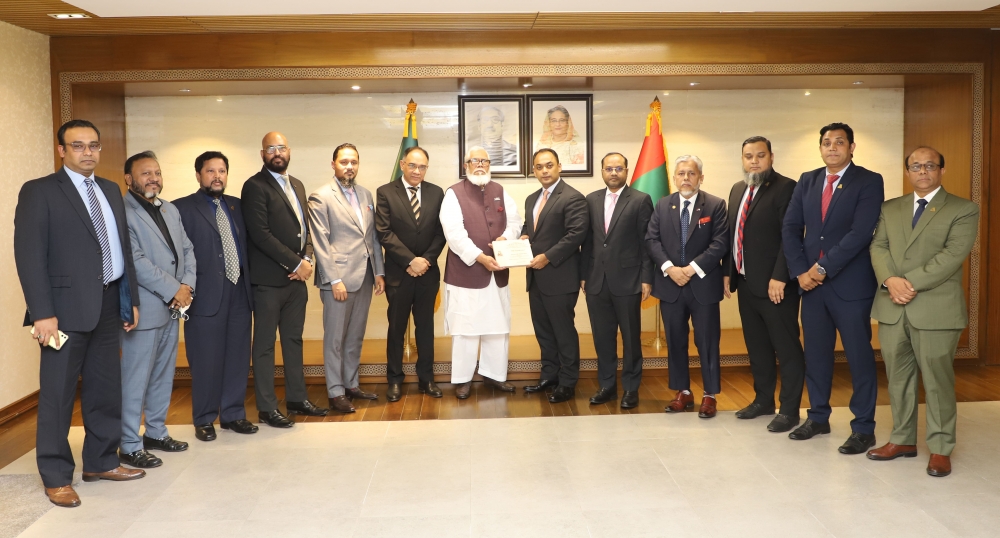 President of Dhaka Chamber of Commerce & Industry (DCCI), Barrister Md. Sameer Sattar underscored the importance of both local and foreign investment in Bangladesh in order to overcome the current economic challenges in this volatile global economic situation.
In this connection, Barrister Sattar suggested substantial reforms to the Arbitration Act 2001, the Bankruptcy Act 1997 and the Companies Act 1994. In this connection, he said that the amendments should be made keeping the business sector in mind so that businesses can enforce contracts easily in Bangladesh and resolve any commercial disputes expeditiously. Barrister Sattar also urged for setting up a separate commercial court which may ease the process of contract enforcement, and resolution of disputes in an expeditious manner as well as reduce the backlog of pending commercial disputes. The bankruptcy laws also need an overhauling to make it applicable to companies and more business friendly so that sick companies can be restructured in an effective manner rather than being pushed to closure through liquidation. It needs to be more commercially viable. Resultantly, this will attract FDIs in Bangladesh. In this regard, Bangladesh can adopt the best international standards from other developed jurisdictions. He also emphasized the need for an effective and fully integrated One Stop Service (OSS), preferably throughout the country for the greater convenience of the existing businesses and upcoming investors. All institutions connected to the OSS must operate in such a manner that investors do not have to go to various institutions separately once an application has been made to BIDA's OSS. This will undoubtedly encourage foreign investors as well to invest in Bangladesh.
Barrister Sattar made these remarks and suggestions while the Board of Directors of DCCI, led by Barrister Sattar called on the Private Industry and Investment Adviser to the Prime Minister of Bangladesh, Mr. Salman Fazlur Rahman, MP at his BIDA office on 24 January 2023.
DCCI President also emphasized that following the LDC graduation, Bangladesh needs to ensure a competitive and self-sufficient business environment in order to attain the double-digit GDP growth. During this transitional time, Bangladesh will have to ensure sustainable economic growth and maintain a resilient private sector.
Salman Fazlur Rahman, MP, Private Sector Industry and Investment Adviser to the Prime Minister of Bangladesh said that due to the adverse effects of the pandemic and Russia-Ukraine war, the world economy is experiencing a critical time. In such circumstances, FDI and global trade flow can be a greater enabler of the desired economic recovery of Bangladesh. Alongside this, he emphasized the resurgence of local and backward linkage industry through substantial investment.
Regarding BIDA's OSS, he informed that required developments are underway for a national, effective and interoperable OSS to benefit both potential local and foreign investors. He also underscored the importance of increasing our tax-to-GDP ratio in order to enhance revenue generation.
DCCI Senior Vice President SM Golam Faruk Alamgir (Arman), Vice President Md. Junaed Ibna Ali and members of the Board of Directors of DCCI were also present during the meeting.
Published on: 2023-01-25