DCC Budget Reaction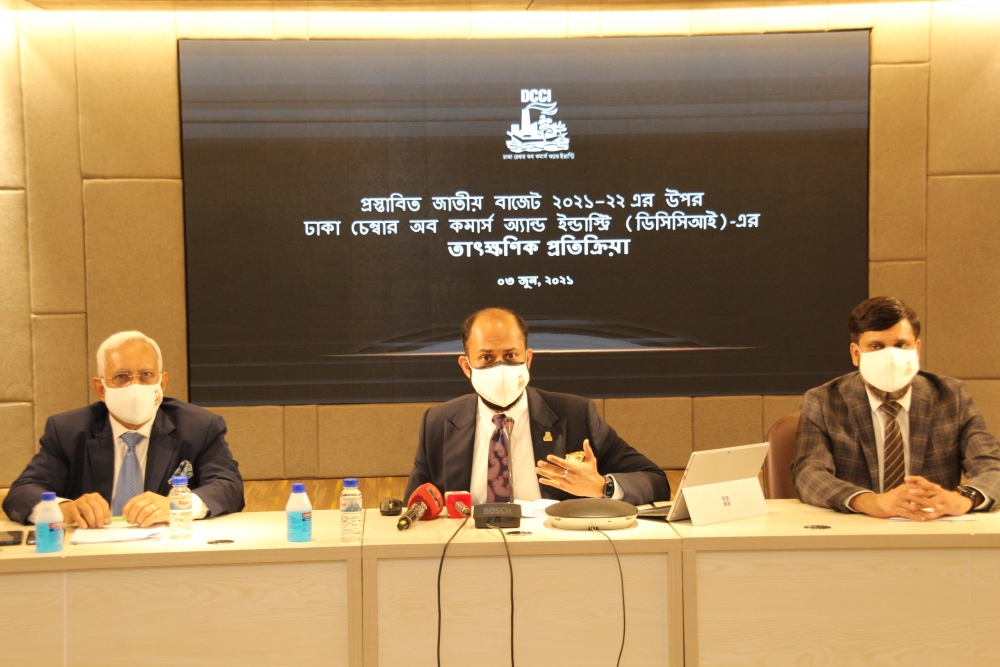 The budget for FY2021-22 has been announced today with a GDP target of 7.2% and inflation of 5.3%. Dhaka Chamber of Commerce & Industry (DCCI) in its initial reaction said that the budget is a big one with an aim to economic recovery and effort to balance between life and livelihood. Budget is by and large inclusive and pro-people said the DCCI President Rizwan Rahman. DCCI President thanked the government for reducing corporate tax both for listed and non-listed companies. It will help boost investment. But he suggested to reduce it at a progressive rate of 2.5% in FY2022-23 and FY2023-24.
In some cases the budget slashes tax rate which may fuel investment, he told. He also urged to ensure easier stimulus for all CMSMEs but the size of stimulus can be bigger to safeguard all CMSMEs. The budget allocated increased budget for health and social safety net measures, which is a good initiative but need to implement ADP in the health sector. It is an expensive budget tries to keep balance between life and livelihood. To achieve GDP target of 7.2%, we have to control Covid transmission. Revenue target is a challenge, he requested to review the target. He urged to widen tax net, collection of due taxes, tax collection in the district level, tax automation for more revenue collection. Mandatory e-TIN for national savings, cooperatives, postal savings will increase tax.
Budget deficit is 6.2% of GDP which is acceptable, Rizwan said. New industry like home appliance, light engineering , automobile, ICT got tax exemptions, which is good for the industrialization, he said. Corporate tax for one person company is fixed at 25%, it is appreciable. but it can be reduced gradually for the small investors. He requested to reduce increased 5% tax on imported fruits and vegetables. He also requested to give a second phase of stimulus package for the CMSME sector. He also recommended to create a strong capital and bond market for long term financing. Tax exemptions have been given to the private sector to invest in hospital and clinic for 10 years, he hailed the decision.
Automobile industry especially for 3 and 4 wheelers will get a boost as for local manufacturers, they will get 20 years tax benefits. He also requested to rationalize advance income tax on export oriented RMG, jute and jute goods, agro processing and API raw materials.
Published on: 2021-06-03