UK can be a good market for Bangladeshi agro products and spices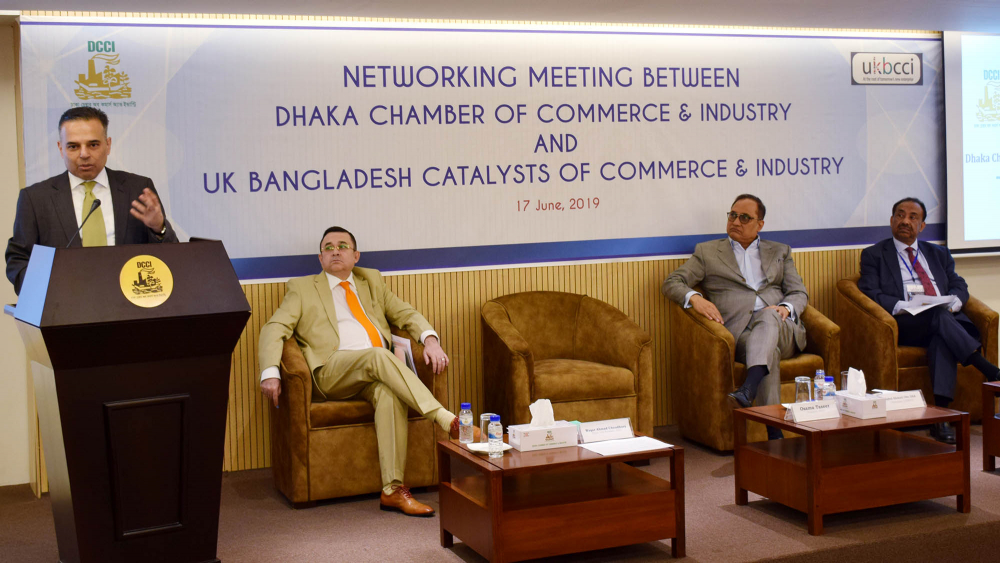 A 19-member trade delegation from UK Bangladesh Catalysts of Commerce & Industry (UKBCCI) visited Dhaka Chamber of Commerce & Industry (DCCI) and a networking business meeting was held between DCCI and UKBCCI at DCCI on 17 June, 2019. DCCI President Osama Taseer presided over the meeting while Senior Vice President of DCCI Waqar Ahmad Choudhury, Chairman of UKBCCI Iqbal Ahmed OBE DBA and President, UKBCCI Bajloor Rahman MBE were present on the dais.
DCCI President Osama Taseer welcomed the delegation and said that the bilateral trade between Bangladesh and UK stood USD 4377.52 million in 2018 of which Bangladesh exports to UK about USD 4 billion and import USD 388 million. FDI from UK to Bangladesh in 2018 was of about USD 371 billion which is 3rd largest in Bangladesh. About 200 British companies have their businesses here in Bangladesh in banking, energy, infrastructure, consultancy and education sector. He invited British investors to invest in RMG, ship building, pharmaceuticals, agriculture, leather goods, ICT and financial market.
DCCI Director and Coordinating Director, Country Competitiveness, Trade Development and Diversification Standing Committee, DCCI Engr. Akber Hakim presented a power point on bilateral trade and investment scenario of both the countries. He said that Bangladesh government has been establishing 100 economic zones in the country. The government has established one stop service facility and is giving various incentives to the foreign investors. He urged the British NRB entrepreneurs to invest in the potential sectors in Bangladesh.
Chairman of UKBCCI Iqbal Ahmed OBE DBA said that the bilateral trade between Bangladesh and UK is in favour of Bangladesh. He said Bangladeshi entrepreneurs are very energetic and hard working. He urged the Bangladeshi entrepreneurs to invest in UK also. He said in UK Bangladeshi agro products, spices and fruits could have been a potential market. He said transfer of knowledge by establishing joint ventures in Bangladesh will be helpful for Bangladesh.
President of UKBCCI Bajloor Rashid MBE said that there are 12000 Bangladeshi restaurants in UK and the annual turnover from this sector is about 5 billion British pound. He also invited businessmen from Bangladesh to visit UK and share the investment strength of Bangladesh with the British entrepreneurs. We need to streamline few specific potential sectors where entrepreneurs of both the countries could work jointly and to expedite it a MOU could be signed between DCCI and UKBCCI, he mentioned. Bangladeshi entrepreneurs can also grab the UK spices market, he said.
Senior Vice President of DCCI Waqar Ahmad Choudhury gave the concluding remarks. DCCI Directors Andaleeb Hasan, KMN Manjurul Haque, Engr. Md. Al Amin, SM Zillur Rahman, Enamul Haque Patwary, Kh. Rashedul Ahsan and Rashedul Karim Munna were also present among others.
Published on: 2019-06-17