Sustainability is a major challenge for RMG industry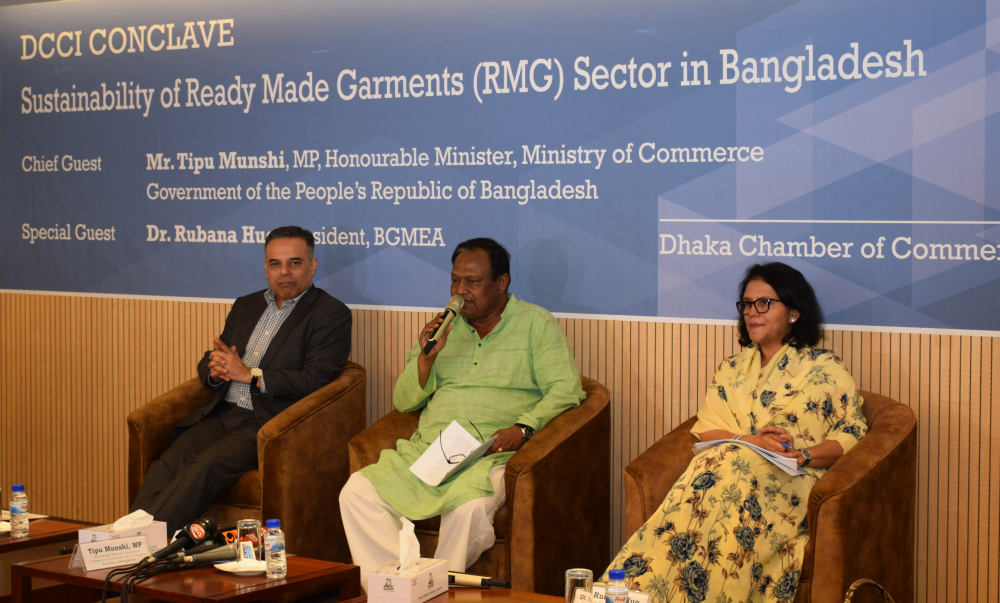 Dhaka Chamber of Commerce & Industry (DCCI) organized "DCCI Conclave on Sustainability of Ready Made Garments (RMG) Sector in Bangladesh at DCCI on 2nd May, 2019. Commerce Minister Tipu Munshi, MP was present as chief guest while Dr. Rubana Huq, President, BGMEA was present as special guest.
DCCI President Osama Taseer said that RMG sector shares USD460 million of total FDI to Bangladesh. We are the largest exporter after China constituting 6.5% of the world market of USD446 billion, he said. He also said that the sustainability and competitiveness of RMG industry may be hampered due to rising production cost driven by wage hike, energy cost hike, compliance cost and declining international market price. The lowest price offering to Bangladeshi products reduces the profit margin of entrepreneurs. He recommended for 5% cash incentive for the next 3 years for export of all ready-made garments to both traditional and non-traditional markets. He also underscored the importance of skill development for improved productivity. He urged for designing a five year long energy pricing policy for the RMG industry. Reducing dependence on gas, local coal resource can be extracted and utilized for growing energy and power needs to keep RMG sector sustainable, he said. 1200 factories have been closed down over the last four years due to failing in compliance standard. He said sustainability focuses on three "P"s like People, Planet & Profit but the buyers are emphasizing only on people and planet. In the EU market, Bangladeshi product price is the lowest compared to any other countries during 2013-2018. The lowest price offering to the Bangladeshi products put the sustainability of RMG sector at stake. Since 2013, Bangladeshi apparel price decreased at 0.74% every year on average. Due to increase of 208% gas price hike for power producer, electricity price may increase by 60% resulting in 9% increase of production cost. Some of the challenges for RMG sustainability are wage hike, energy price hike, remediation cost, currency depreciation, international market price and labour productivity.
Commerce Minister Tipu Munshi, MP agreed that the RMG industry needs some incentives for a certain period in order to support the industry. He also said that the entrepreneurs of this sector are not getting right price from the buyers. He urged for increasing negotiation skill to get the best price from the buyers. He said our factories are now more compliant and the quality of our products are also high. He said government will be with the RMG sector as it is the biggest contributor in our economy. He informed that FTA with Sri Lanka, Belarus and Czechoslovakia are in final stage and government is thinking of signing FTA with Brazil also. The Commerce Minister said that gas and energy price hike will increase cost of doing business in the RMG industry.
BGMEA President Dr. Rubana Huq said for the sustainability we need support from the government. Moreover we are in crisis of positive image and we should build this image in the international market with the support of all specially through the media. She also underscored the importance of forming strong strategy, right statistics and also the government should focus on how to reduce cost of doing business for RMG's sustainability. 'The Era of Collaboration' has begun only to make this industry sustainable, she said. She also said that BGMEA will work hard to establish our positive image and branding in the international market.
Faisal Samad, Senior Vice President of BGMEA, Asif Ibrahim, Former President, DCCI & Director, BGMEA, Benajir Ahmed, Former President, DCCI, Miran Ali, Director, BGMEA, Roger from H&M, Zahangir Alam, Sustainable Manager, Bestseller, Md. Rezaul Karim Bhuyian from Inditex, Qamrul Hasan from Inditex, Haider Ahmad Khan, Former Senior Vice President, DCCI, Fazlul Haque, former President, BKMEA, Mohammed Sohel, Managing Director, Banglaposhak and MS Siddiqui, Member, DCCI spoke in the stakeholders' discussion session.
The speakers urged for reducing cost of doing business in this sector and for image building. They also stressed for skill development. Speakers told that if gas price hikes it will increase the cost of production as well. They also sought at least 5-year incentives and support from the government. They also termed the depreciation of taka against the dollar as one of the reasons for price fall of RMG industry. But trust between buyers and producers are important remarked the speakers.
Published on: 2019-05-15