Speakers urged for good governance for a disciplined financial market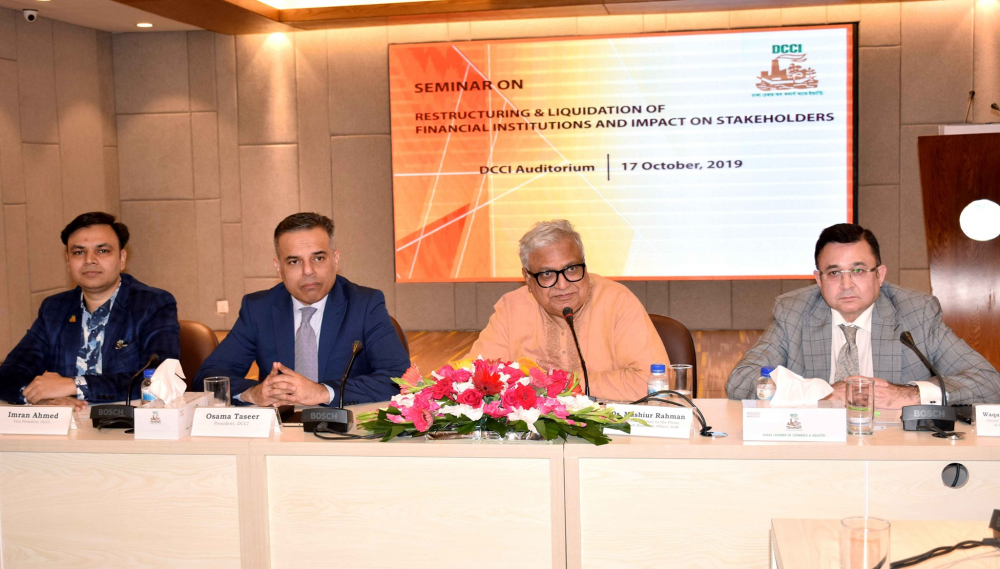 Dhaka Chamber of Commerce & Industry (DCCI) organized a seminar on "Restructuring & Liquidation of Financial Institutions and Impact on Stakeholders" at DCCI on 17th October, 2019. Dr. Mashiur Rahman, Adviser to the Prime Minister on Economic Affairs was the chief guest.
DCCI President Osama Taseer in his welcome address said the financial sector is growing rapidly accompanied by growing number of financial institutions, reforms for financial inclusion, product diversification and burgeoning volume of assets. Despite remarkable improvement in the financial sector, some banks and financial institutions are facing crisis and navigating through difficult time. Institutional weakness, weak governance, lack of stringent due diligence in loan disbursement, concentration to large borrowers and slow loan recovery process raised serious concern about the efficiency and soundness of many financial institutions, he mentioned. The high NPL impacts financial sector as well as for entire economy through slow credit recycling, pushing the liquidity shortage and impacting the creditworthiness of overall banking industry. Increasing deposit interest rate among all banks and NBFIs which in turn also increases the lending rate, impacting private sector credit flow from SMEs to large businesses, he said. Bangladesh Bank needs to strengthen its monitoring mechanism, early warning system to improve the financial health of weak financial institutions, standard benchmark of NPL across the financial sector and restriction of deposit collection of high NPL making concern. He also said some intuitional and policy reforms need to be taken to address the state of fragile financial institutes like framing "Financial Sector Restructuring Authority" to oversight the recovery of underperforming institutes.
Dr. Mashiur Rahman, Adviser to the Prime Minister on Economic Affairs stressed on keeping confidence among the financial institutions. He also suggested the investors or depositors to invest or deposit their hard-earned money carefully. The Adviser recommended the financial institutions to conduct internal as well as external audit in a transparent manner on a regular basis. Regarding stock market he said that our capital market does not have good shares nor good companies come into share market, and for that reason the investors have to depend on poor quantity of shares to trade. He requested large companies to float shares in the stock market and suggested to invest more in the manufacturing sector. He also urged upon for policy reformation, modernization and policy simplification for a strong financial market.
Arif Khan, CEO & Managing Director, IDLC Finance Limited in his keynote paper urged to establish bond market and discourage banks for long term lending as he said banks take deposit for one year term and banks should not go for long term financing. In order to cut down non-performing loan he stressed for good governance, strong monitoring by the Central Bank, ensuring penalizing the wrong-doers.
Sohail R K Hossain, Managing Partner of RSA Consulting Partners and former Managing Director, The City Bank Limited also presented a keynote paper. To resolve crisis in the financial market, he stressed for consolidation of non-performing banks, more freedom to Bangladesh Bank, restructuring of weak financial institutions, increase Capital Adequacy Ratio (CAR), not breaching Advance on Deposit Ratio. He stressed the legal and structural weakness for recovery and collection of assets necessary for successful liquidation, which needs to be address.
Barrister Mustafizur Rahman, Advocate, Supreme Court of Bangladesh, Minhaz Mannan Emon, Director, Dhaka Stock Exchange, Dr. Md. Kabir Ahmed, General Manager, Bangladesh Bank and Md. Abul Kalam, Director, Bangladesh Securities and Exchange Commission spoke on the occasion as panel discussants. The speakers stressed on corporate governance, strong monitoring of Bangladesh Bank, implementation of Company Act, restructuring process, confidence build-up, use of ADR to resolve pending financial disputes.
Senior Vice President of DCCI Waqar Ahmad Choudhury proposed to prepare a pragmatic recovery policy to aim primarily at equity objectives, to restore deposit holders' assets, liquidity, and solvency in financial institutions through restoring enhancing credit discipline.
In the open discussion session former Senior Vice President, DCCI MS Shekil Chowdhury, former Vice President M Abu Horairah, former Directors AKD Khair Md. Khan, Major (Retd.) Yead Ali Fakir, Managing Director, IPDC Mominul Islam, Professor Dr. Mahamood Osman Imam, Managing Director Pubali Bank Securities Ltd. Mohammed Ahsan Ullah, Managing Director, United Finance Kaiser Tamiz Amin, Managing Director, EBL Securities Md. Sayadur Rahman, Managing Director, NDB Capital Limited Kanti Kumar Saha, Director, DSE Brokers Association Mohammad Ali, FCA also spoke on the occasion. Speakers urged for proper monitoring, policy reforms, frequent auditing, selection of good borrowers for a disciplined financial market.
DCCI Vice President Imran Ahmed, Directors Engr. Akber Hakim, Ashraf Ahmed, Enamul Haque Patwary, KMN Manjurul Hoque, Engr. Md. Al Amin, Shams Mahmud and former President RM Khan were also present on the occasion.
Published on: 2019-10-17