Separate Economic Zone can be established for halal products manufacturing industry: BIDA Chairman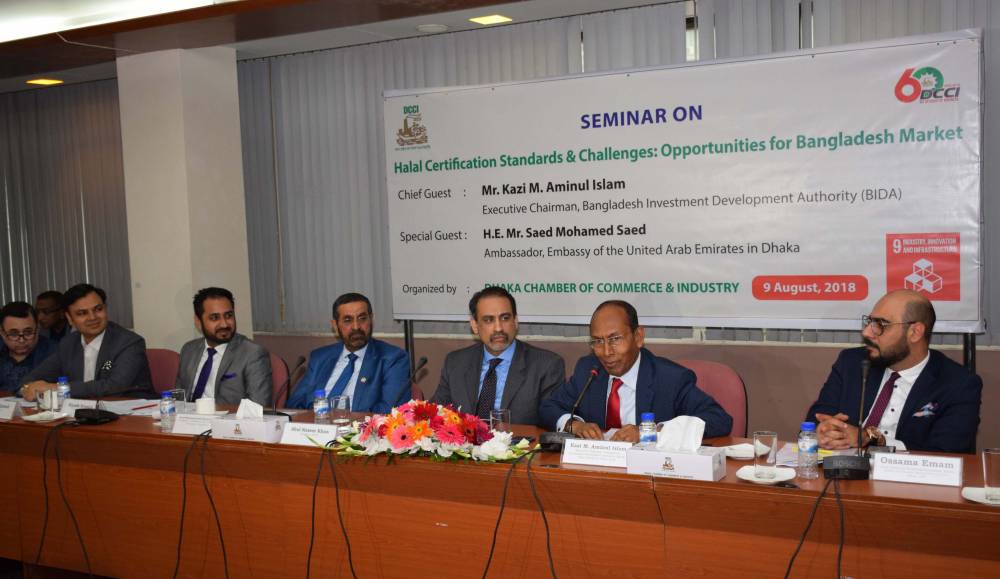 Executive Chairman of Bangladesh Investment Development Authority (BIDA) Kazi M. Aminul Islam said that a separate Economic Zone can be established specially for manufacturing Halal products in the country. He made this comment in a seminar titled "Halal Certification Standards and Challenges: Opportunities for Bangladesh Market" organized by Dhaka Chamber of Commerce & Industry (DCCI) on 9 August, 2018. Kazi M. Aminul Islam was present as a the chief guest.
Ambassador of UAE in Bangladesh Saed Mohammed Al-Mheiri was present as special guest. DCCI President Abul Kasem Khan chaired the seminar.
Kazi M. Aminul Islam said that world-wide halal market is a trillion dollar market. He said Halal certification is an added advantage to the products and this certification creates an extra appeal to the buyers. Halal products have a great demand in the international market even in the European market because of its distinct quality, he said. He said Bangladesh and UAE maintains a good relation since long and to expedite halal certification process, UAE can help us. He also said that for halal certification we need to follow global standard. "What Islamic Foundation is doing now is not enough" he said. Moreover we need to do a lot of research on halal products. Government will support the private sector if they come forward to flourish in this sector.
DCCI President Abul Kasem Khan in his welcome address said today Muslims are the 2nd largest community in the world. According to global Islamic Economy 2017-18 report of Thomson Reuters, the global islamic market is around USD2 trillion which is contributing to 11.9% of the world expenditure. Brazil, Australia, New Zealand and Thailand are leading halal market suppliers, he said. But Bangladesh has the potential in the global halal market with the right support. He also urged to build an international halal certification process, build separate zone for halal products manufacturing and form new policy for facilitate this market.
Ambassador of UAE in Dhaka Saed Mohammed Al-Mheiri said, the popularity of Halal food and other consumer items has been rising even among non-Muslim populations around the globe as Halal foods are hygienic and healthy. According to an estimate of Transparency Market Research, the global Halal product market was valued at USD$2.7 trillion in 2015 and will rise to 10.51 trillion by 2024. At present Bangladesh has been exporting Halal meat to limited countries. This can be expanded by ensuring safe and healthy cattle's meat.
Head of Sales & Marketing Department, RACS Quality Certificates Issuing Services LLC, Dubai, UAE Ossama Emam presented the keynote paper.
DCCI Convenor MS Siddiqui, former Senior Vice President MS Shekil Chowdhury, Alhaj Abdus Salam, Directors Waqar Ahmad Choudhury, SM Zillur Rahman took part in the open discussion session. DCCI Vice President Riyadh Hossain gave vote of thanks on the occasion.
Published on: 2018-08-09