Increased private sector credit flow will ensure more investment and economic growth: DCCI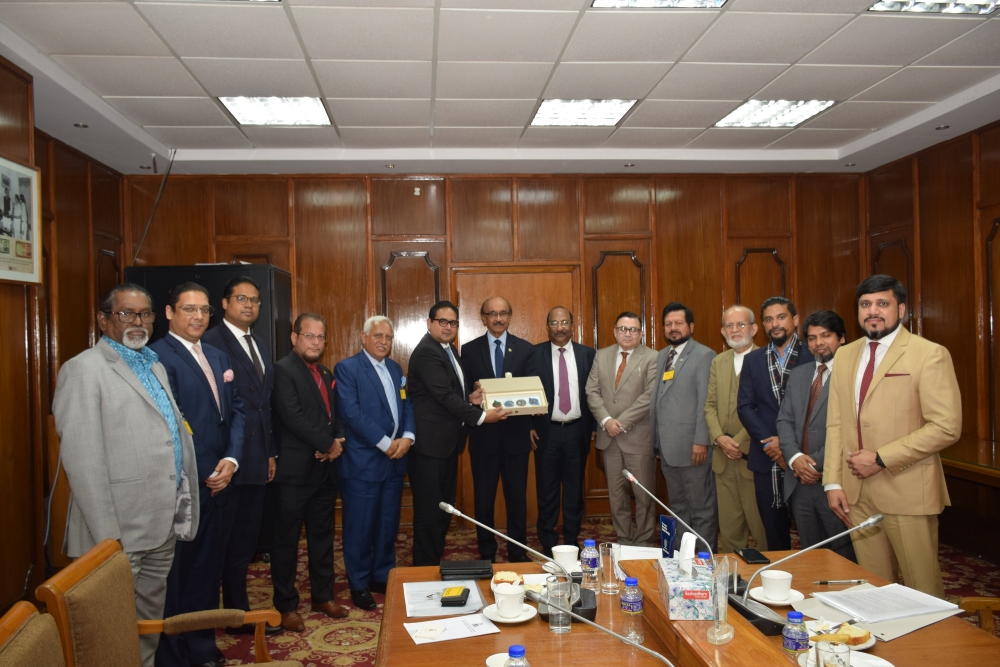 DCCI Board of Directors called on BB Governor
The newly elected Board of Directors of Dhaka Chamber of Commerce & Industry (DCCI) led by its President Shams Mahmud called on Governor of Bangladesh Bank Fazle Kabir today on 14 January, 2020. Executive Directors of different departments and high official of Bangladesh Bank were present at that time.
During the meeting, DCCI President Shams Mahmud said though GDP growth of Bangladesh has achieved a new height crossing 8% growth trajectory but private investment is stagnant within 22%-23% of GDP. The stagnant private investment is aggravated by the slow-down in the private sector credit growth which was 9.87% in November 2019. Higher interest rate on bank loan is one of the reasons for slow-down of private investment. DCCI President requested to cut down lending rate to single digit. To reduce non-performing loan (NPL) he suggested to establish a mechanism in order to identify willful and unintentional defaulter. To improve in the ease of doing business index, he suggested to amend Section 42 (c) of Bangladesh Bank Order 1972 for collecting and distributing credit information data from sources other than Banks and amend Section 46(3) of Bangladesh Bank Order 1972 to allow private firms and individuals to access to own credit information. Terming SME as the lifeline of the industry, Shams Mahmud sought access to export market, required infrastructure facility and access to finance for the SMEs. In order to reduce the dependence on public finance and banking system finance, government should develop alternative sources of long-term financing for infrastructure and industrial projects like bond market in the local capital market. Devaluation of Taka against US Dollar may have negative impact to the economy therefore, without devaluing Taka, additional cash incentives may be given to major export sectors since our export dependent business rely on import of raw and intermediary goods, he suggested.
Governor of Bangladesh Bank Fazle Kabir said the economy of Bangladesh mostly depends on banking financial system. Government is trying to bring down the lending interest rate to single digit for the betterment of economy, businessmen and mass people which may be implemented from April next, he said. Government has also taken various infrastructure development projects where private sector's intervention would be much appreciated. Regarding non-performing loan, he said there is a clear definition of willful and unintentional loan defaulter in the law but if any entrepreneur failed to repay the loan due to delayed connection of power, energy, gas or delayed loan approval process or some other reasons which have valid ground might get special consideration. Recently National Board of Revenue (NBR) withdrew stamp duty which will help flourish bond market system in the country. He also urged that Bangladesh should have a strong secondary Bond Market for long term financing mechanism. He also sought fullest cooperation of the business community for effective and proper utilization of Export Development Fund (EDF).
Banking Reform Adviser of Bangladesh Bank S K Sur Chowdhury said for the sake of overall banking eco-system, healthy money market and to achieve targeted economic growth Bangladesh Bank will amend its rules and regulations if necessary and this effort will also be continued.
Senior Vice President of DCCI N K A Mobin, FCA, FCS, Directors Andaleeb Hasan, Arman Haque, Alhaj Deen Mohammed, Enamul Haque Patwary, Engr. Md. Al Amin, Monowar Hossain, Nuher L. Khan, Engr. Shamsuzzoha Chowdhury, S M Zillur Rahman and Waqar Ahmad Choudhury were present and spoke during the meeting.
Published on: 2020-01-14