Direct flight between Dhaka-Jakarta urged to boost bilateral trade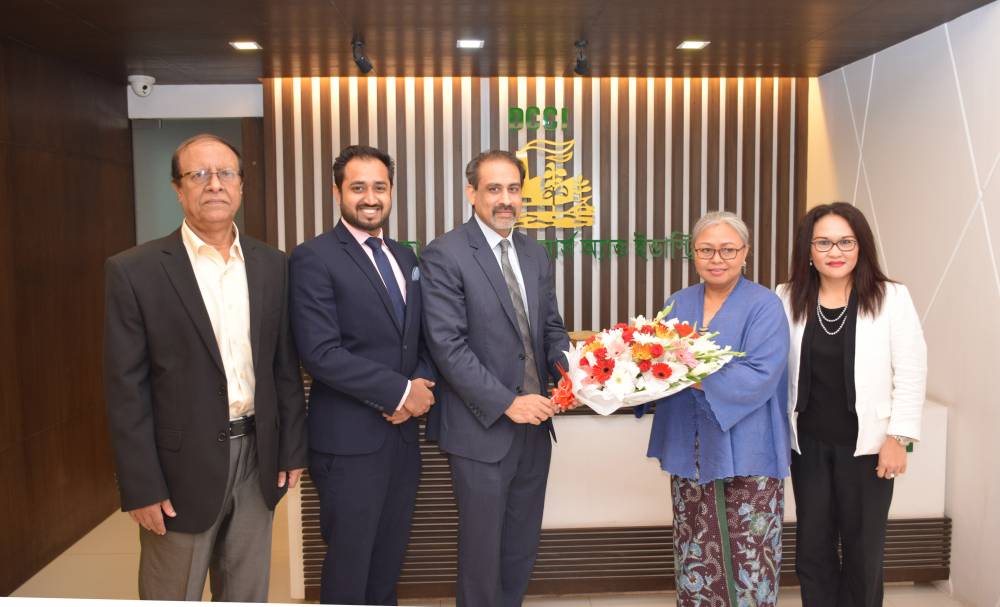 Ambassador of Indonesia in Bangladesh Rina P. Soemarno called on President of Dhaka Chamber of Commerce & Industry (DCCI) Abul Kasem Khan at DCCI on 23 July, 2018. DCCI Vice President Riyadh Hossain, Counsellor-Economic Affairs of Indonesian Embassy Inggrid Rosalina and Secretary General AHM Rezaul Kabir were also present during the meeting.
DCCI President Abul Kasem Khan said that the bilateral trade gap between the two countries is in favour of Indonesia. in 2016-17 Bangladesh export to Indonesia worth of US$46.389 million against the import of US$1149.9 million. He urged the Indonesian Ambassador to take initiative to start direct air flight between Dhaka and Jakarta to boost bilateral trade specially tourism sector. He also proposed for arranging a joint Road Show in Dhaka as well as in Jakarta in order to attract investments. He also urged for government to government initiative to sign a preferential trade agreement (PTA) between Bangladesh and Indonesia. He also suggested that entrepreneurs of both the countries can explore the potential of International Halal food market. He invited Indonesian investors to invest in agriculture, IT, leather, infrastructure and tourism sector in Bangladesh. He also said that DCCI is going to celebrate its 60th anniversary this year and to mark this occasion, DCCI will host an international business conference titled 'Destination Bangladesh' where DCCI President invited Indonesian investors to come and see the investment environment of Bangladesh.
Ambassador of Indonesia Rina P. Soemarno said that signing of preferential trade agreement is in active consideration of Indonesia and they are having meetings on the issue. She said Bangladeshi jute bag, tiles from jute and other diversified jute products and shoes have potential market access in Indonesia. She invited Bangladeshi entrepreneurs to attend 'Tradexpo Indonesia' to be held from 24-28 October, 2018 in Indonesia. She showed her interest to jointly work in the blue economy sector to explore its potentials. She also echoed with the President, DCCI for establishing a direct flight between Dhaka and Jakarta. She said the more we will know each other the more trade will take place between us. She said exchange of trade delegation will bring the entrepreneurs of both the countries close to each other.
DCCI Vice President Riyadh Hossain said Bangladesh is doing well in the IT sector. He invited Indonesian investors to invest in IT sector of Bangladesh. Besides, he welcomed a joint efforts to expand the cooperation in development of leather and chemical sector. To reduce existing trade gap he emphasized on mutual cooperation.
Published on: 2018-07-23