Closing Ceremony of the Training on "How to Establish a New Business" organized by DCCI Business Institute (DBI)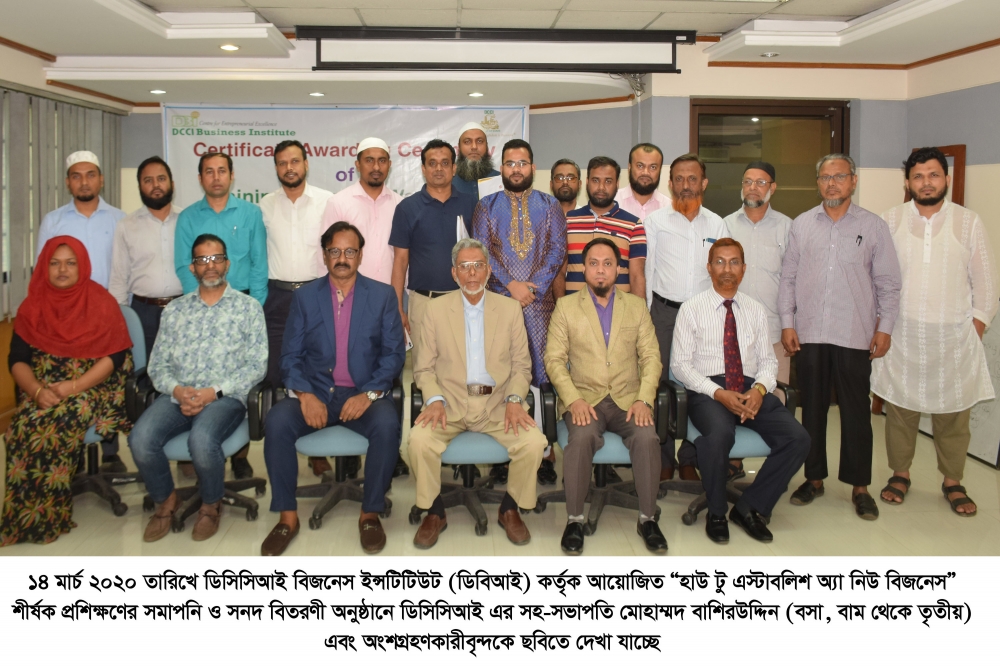 A Training titled "How to Establish a New Business" was organized by DCCI Business Institute (DBI) on 13-14 March, 2020 in it's premises. Sixteen (16) Business Professionals were participated in the Training. Dr. Md. Mohan Uddin, Professor of Finance, United International University and Mohammad Zahid Hossain, Chief Financial Officer, Rahimafrooz Bangladesh Limited were conducted the Training as Resource Person. According to the participant's feedback this training has broadened their mental horizon and made them conversant with very important issues of establishing a new business.
Closing and Certificate Awarding Ceremony of the said program was held on 14 March, 2020 at DBI premises. Mohammad Bashiruddin, Vice President, DCCI graced the program as Chief Guest. He stated that most entrepreneurs are not adequately prepared to go into business. While they have the motivation, desire and talent, they may not have taken their time to properly investigate and research on their selective business.
Kazi Harun Or Rashid, Former Chairman, Islami Bank Bangladesh Ltd. & Advisor, Dhaka Business Club and Mohammad Luthfur Rahman, President, Dhaka Business Club were graced the program as Special Guest and Guest of Honour respectively. They said that those who are already in business, which a small entrepreneur should be able to identify and do the needful to optimize the gain, have been facing various problems in its operation. Md. Solaiman Kabir Masum, Secretary, HR, Dhaka Business Club also present in the programme.
Md. Joynal Abdin, Secretary, DCCI & Executive Director of DCCI Business Institute (DBI) offered the vote of thanks on this occasion. He also advised the participants to practice and share their knowledge among the fellow colleagues. He was thankful to the respective authorities for nominating officials at the training program organized by DBI. All participants, Tamanna Sultana, Joint Secretary (Training) was also present in the occasion.
Published on: