Participation of private sector to be increased more to achieve SDGs: DCCI Round Table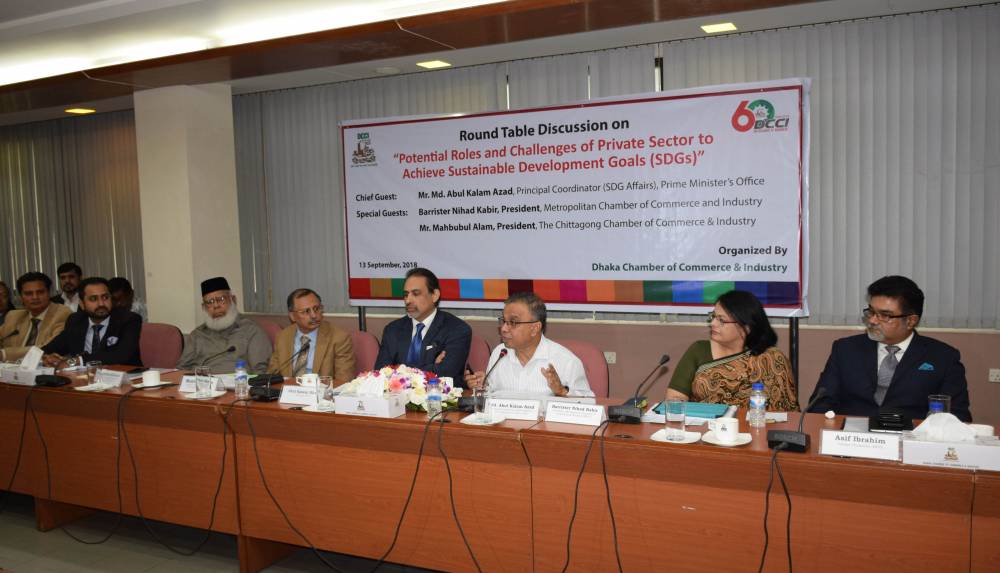 Per capita income will reach to USD16000 by the year 2041 and by this time Bangladesh will become the developed nation, said Md. Abul Kalam Azad, Principal Coordinator (SDG Affairs), Prime Minister's Office. He made this comment at the Round Table Discussion Session on "Potential Roles and Challenges of Private Sector to Achieve Sustainable Development Goals" organized by Dhaka Chamber of Commerce & Industry (DCCI) on 13 September, 2018 as Chief Guest.
President of Metropolitan Chamber of Commerce and Industry (MCCI) Barrister Nihad Kabir and President of The Chittagong Chamber of Commerce & Industry (CCCI) Mahbubul Alam were present as special guests. Former DCCI President Asif Ibrahim moderated the open discussion session.
DCCI President Abul Kasem Khan in his welcome address said that under SDG, Bangladesh requires intense focus on employment generation to institutional capacity building. Private sector are facing some challenges like affordable and reliable energy sources, inadequate technology, expensive compliance and preparedness measures, Climate change impacts, outdated infrastructure facilities, high cost of doing business, weak regulatory framework including business process and lack of institutional capacity. We need policy continuity, consistency and cohesiveness for more engagement of private sector in attaining SDG. Regulatory reforms in all major policies related to the economy, trade and investment are some of the key factors, he said. He urged for more private sector participation in policy designs. He said Bangladesh will need around USD928 billion of additional resources up to 2030 for achieving the 17 goals.
Md. Abul Kalam Azad, Principal Coordinator (SDG Affairs), PMO said that the government has created a land bank of 100000 lakh acres for establishing economic zones specially in the south belt of which 35000 acres of land have been acquired and handed over to BEZA. He also said that it is our private sector which are leading our GDP growth. He said that government has done a mapping with the goals and targets of SDG and distributed tasks among all the ministries for implementation. We need resource mobilization for financing issues. We also need to enhance skill development. He urged the private sector to invest in the economic zones and government will facilitate the private sector providing electricity and gas. The present GDP growth is achieved because of our private sector, he said.
Dr. Nazneen Ahmed, Senior Research Fello of BIDS presented the keynote paper. She highlighted that the goals of SDG 8, 9 and 12 are directly linked with private sector. She said that our local market is also very big. To explore our own market we have to increase our investment. She also urged for skill development and infrastructure. In order to increase investment corporate tax rate should be reduced and long term regulatory framework should be established.
President of CCCI Mahbubul Alam said in order to address the challenges, the complimentary elements of SDG are good domestic policies, rule of law and an effective regulatory framework. To attain SDG strong institutional mechanism involving all stakeholders including public representatives, government, private sector, civil society, knowledge community and development partners are required.
President of MCCI Nihad Kabir said that a participatory role both from public and private sector will expedite SDG attainment. She urged for access to technology and vocational education. She said that financing for SDG will not be a problem as Bangladesh may try to get the Green Climate Fund. She underscored the importance of transparent long term regulatory framework.
Senior Research Fellow of CPD Towfiqul Islam Khan, Director of Multimode Group Tafsir Mohammed Awal and Research Director of PRI Dr. MA Razzaque were present as panel discussants. The speakers urged that we have to come out of traditional incentives. First of all we have to reduce corruption they said.
Former President of DCCI Hossain Khaled, Director of Power Cell Engr. Mohammad Hossain, Secretary General of MCCI Farooq Ahmed, former senior vice president of DCCI MS Shekil Chowdhury, Additional Secretary of Ministry of Disaster Management Mohammad Mohsin, DCCI Joint Convenor Barrister Siam Al Din Malik, DCCI former Director AKD Khair M Khan, Country Director of KOICA Cary H. Joe, Convenor of SDG committee of DCCI MS Siddique took part in the open discussion session. Speakers urged for entrepreneurship development as it will create more employment opportunities and faster communication in the Dhaka-Chittagong economic corridor.
DCCI Vice President Riyadh Hossain gave the vote of thanks.
DCCI former President and President of ICC-Bangladesh Mahbubur Rahman, Directors Imran Ahmed, Kh. Rashedul Ahsan, Engr. Md. Al Amin, Mohammad Bashiruddin, & Waqar Ahmad Choudhury and Secretary General AHM Rezaul Kabir among others were present.
Published on: 2018-09-13